Rope Tales organizes bondage courses in Milan.
Each bondage course is taught in one or more lessons, on a weekly basis and in evening time. For students who do not live in Milan we also have intensive courses that take place on Sundays. The training room is located in Via Giuseppe Pecchio 18, in Milan. We are a few steps from the MM1 / MM2 stop in Loreto.
Bondage course teachers in Milano
Kirigami and Tenshiko are a couple both in the ropes and in life. In the last six years they have performed and held bondage courses both in Milan and in different cities in Italy and all over Europe. They have participated in important events, both in the field of bondage (such as the performance of Master Naka Akira in 2017); and in non-specialist situations, such as the Milan Tattoo Convention 2018.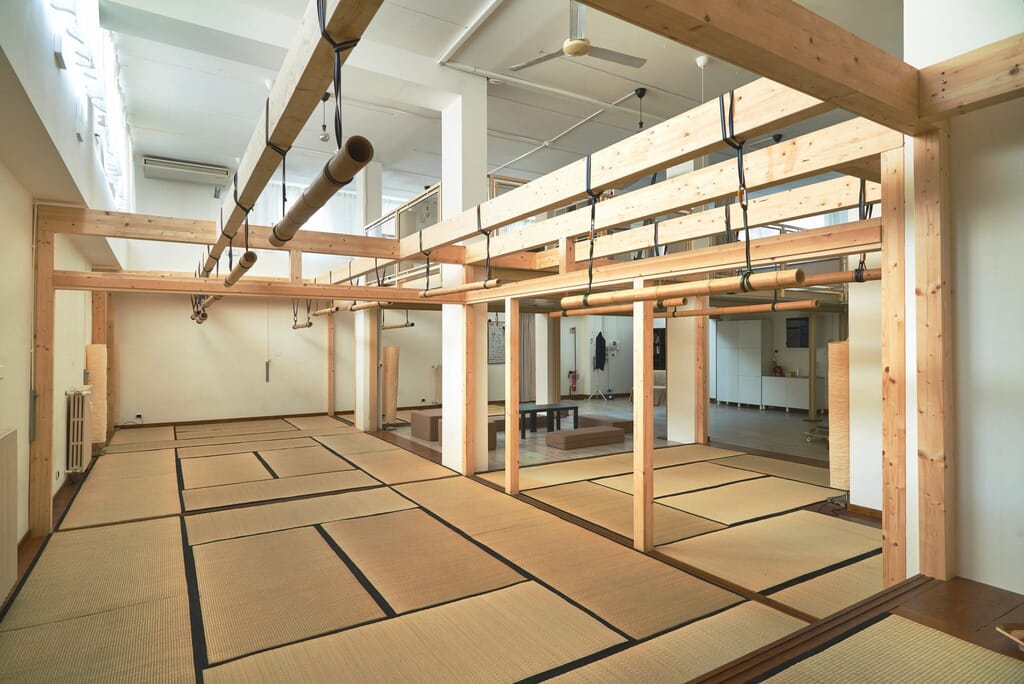 How bondage courses are held
During bondage classes, teaching is not limited to the technique needed to perform the different ties. The physical, aesthetic and psychological aspects connected with the practice are also addressed. We also deal with some topics related to Japanese history and culture.
After an brief generla introduction, the educational path starts from the basics of the technique, necessary to perform a safe and effective bondage. While the techniques taught become more and more complex, the aspects of flow in binding and of communication between those who bind and those bound is gradually introduced. In this way we naturally reach the connection and the emotions that bondage can create.
Bondage School in Milan: Courses and practice
Attending the school in Milan, as well as taking part in the life of their own rope community, students are helped creating a context for ropes; that is, to form within themself the idea of ​​an aesthetic, and of a way of experiencing communication through ropes. The exchange of views with other students, and the internalization of the kinbaku vision of those with more experience are crucial to this process. To give students the opportunity to practice, and to encourage all the dynamics explained above, the bondage school in Milan is open every Thursday for our kinbaku training sessions. On these occasions the teachers do not teach through a frontal lesson, as happens during the bondage classes. Instead, two themes are assigned per evening, which each couple can perform according to their abilities and inclinations. The foundations for a prolific creativity are thus constructed.
Find you next bondage course in Milan
Go to courses calendar (in Italian)
---
Bondage course, what should I know in advance?
Japanese bondage is a cultural activity that uses a physical medium.
The first thing to know is that a bondage course by Rope Tales is a moment of cultural exploration, even though we are also teaching new techniques to students.
Japanese history and culture are crucial to fully understand kinbaku, and are taught since the first shibari courses in our school in Milan.
Transposing the learned concepts into practice – not by "copying" the Japanese, but keeping their own Western education – requires a deep cultural mediation, in which the students will be gradually guided by the teachers. Each course is an opportunity to cultivate the beauty of a deep part of ourselves.
Why cultural aspect matters?
Understanding the historical and cultural context in which kinbaku has developed is necessary to fully exploit the possibilities offered by the medium.
A shibari course is used to learn how to build an interaction with your partner during bondage. It is useless to know the technique, if you do not know what emotions it allows to evoke. For these reasons the bondage courses of our school in Milan dedicate a large space to teach the emotional feeling of Japanese people. The next step is to guide students through the necessary cultural mediation. We evetually arrive at a personal way of experiencing rope, which reflects the traditional inspiration.
How is it possible to communicate an emotional content during a group course?
Kirigami and Tenshiko have performed for many years in different cities in Italy and all over Europe. As experienced performers they can show how kinbaku can arouse deep emotions. During the bondage classes it is possible to see a demonstration: the students see with their own eyes how effective a simple but well-made tie can be.
How can I overcome the embarrassment and practice an erotic discipline in a group course?
Always keep in mind that other students are in exactly the same situation. Consider they have enrolled in the course for your same desire, so you can see a bondage course as a way to learn, but also to share your passion with other practitioners.
In any case, in our school in Milan there is no explicit erotic play. You learn what you need to create the right situations later, when you will do bondage in private.
How do you teach techniques?
Not everything that comes from Japan can be enjoyed by a Westerner without mediation.
The Eastern educational system is based on observation and repetition, and is totally different from that suitable for a shibari course in Europe. Our teaching method has been refined in over two years of weekly bondage courses at the Milan school, and allows quick and effective learning. During the lessons, students do not have to tie while the teacher is tying. The step-by-step repetition allows to memorize the bondage techniques, but not to understand the general structure.
How do you protect privacy?
During the course you can not take photographs, videos or recordings. You can ask a photo to the teachers, who will take it with their camera, and deliver it to the interested parties after having censored all the other faces.
I only saw photographs of tied women and girls. Is it possible to tie a man too?
Sure! During our shibari courses the different sexual orientations of everyone present are respected and valued.
We do not tolerate any form of discrimination towards the sexual orientation of the other participants in the course.In the same way we do not tolerate any other form of discrimination.
I am single, can I still participate?
Yes, in our school in Milan there are boys and girls willing to bottom during bondage classes.
You just have to inform us first. If instead you want to get tied up, you can directly contact us. We will put you in pairs with a student compatible with the preferences indicated.
In any case, remember that the best thing is always to practice with a person you are already familiar with.
How do I know if I'm on the right track? There are many bondage schools and I do not know which one to choose.
First you should understand what you really want to learn. There are several ways to do Japanese bondage.
When you've identified the style that moves you the most, contact other practitioners of the same style. Search for a place where bondage classes are held in that style in your city or in nearby cities. Our school in Milan is in contact with several other teachers throughout Italy and in the rest of Europe.
The teacher
First of all, look at his works and try to understand if they communicate you something. Do you see in the images and videos the passion and the emotions that you would like to try during bondage with your partner?
Japanese bondage is a cultural discipline. Read what the instructor writes. Do you like the way he or she expresses himself or herself? Once you have an idea, contact him or her. Ask the teacher about other practitioners of the same style and get in touch with them too. Listen to their opinions about your teacher and his or her bondage classes.
Do not forget that the work of a teacher is evaluated by observing the skills of the students. Ask to be put in touch with other students and observe their ties. Try to understand if the teacher is able to pass on his or her knowledge. Ask also advice to those who practice different bondage styles or attend other schools. Analyze what they tell you. If they criticize your choice, try to understand if they are warning you of an untrained educator (which you should avoid), or if they are inviting you to change your style. Listen to everyone's advice, but remember that choosing a style is a personal decision. The last word is up to you and it is under your responsibility.
Boundage course
Once you have decided who your teacher is, let him or her guide you in choosing the appropriate bondage course for your level.
You have gatherd informations in order to be able to trust once you have made your choice. Do not try to skip stages. Even if you have learned the basics of a different style, it may be good to take a step back when you approach a different bondage style.